YTP Man 2001 is a user from Texas who is active on YouTube. He is known to make YTP'S, G Major Videos,Sped Ups and reaction videos.
Likes: Angry Birds, Adventure Time, Regular Show, Super Mario, My Life as a Teenage Robot, Kim Possible,The Amazing World of Gumball, The Simpsons, SpongeBob, Super Smash Bros, The Loud House, Steven Universe, Thomas and Friends, Hi Hi Puffy Ami Yumi, Sailor Moon, DragonBall Z, SuperMarioLogan, Frozen, Toy Story, Big Hero 6, Ben 10 and Other good Media
Dislikes: Grounded Videos, Dead Meat Videos, Nutshell Videos, Teen Titans Go, My Little Pony, Undertale and Other Bad Media.
Until he left Goanimate on october 2015, since then, he Deleted allmost all of his grounded videos and move on to bigger and better things on the internet.
His current username is YTP Man 2001.
His current icon is Luna Loud From The Loud House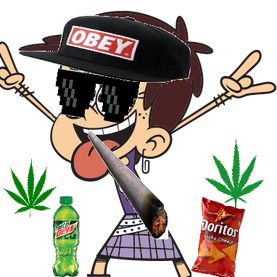 Community content is available under
CC-BY-SA
unless otherwise noted.